Small Joint replacements
This topic includes:
PIPJ replacement
MCPJ replacement
CMC joint replacement in the thumb
PIPJ Replacement:
This procedure has been performed for over 25 years, but originally with the silicone Swanson Replacements. Pain relief has always been good, but function and movement have been disappointing. The procedure initially was limited to Rheumatoid patients, now with newer 'surface replacements' osteoarthritis can be addressed.
The movement and functional results with today's implants are still variable. My recent review of the new Finsbury PIPJ replacement has shown good pain control and an improvement in movement in the osteoarthritic patients. What we can see is that in patients with single joint disease, it is likely that a moderate to good result will be obtained. While with polyarthropathy, the influence of the other joints can often prevent significant functional improvement.
What would I recommend?
In a patient with OA and only a few joints affected a metal or pyrocarbon implant would likely give a good result. In polyarticular disease a combination of arthrodesis and silicone implants would be the choice procedure. It must be noted that the longevity of these implants is undetermined. What often happens is that the finger becomes increasingly stiff with time, and the joint replacement can be seen as an expensive fusion!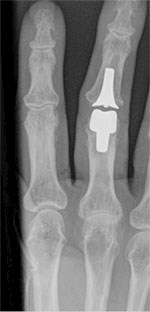 MCPJ replacement:
Traditionally silicone implants have been used for RA, with good results.
Modern surface replacement implants metal or pyrocarbon can be used in osteoarthritis or posttraumatic arthritis, with encouraging results.
CMCJ replacement of the thumb:
Basal thumb arthritis has traditionally been treated with trapezectomy with or without ligament suspension. Currently there is a trend to only perform trapezectomy after a couple of notable papers. However these papers were in specific groups of patients with established CMC or pantrapezial OA.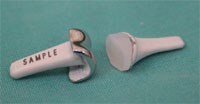 In patients who are younger and more active, for example the male manual worker joint arthodesis has been the choice, but, CMCJ fusion is a difficult procedure due to the higher than average risk of non-union and the increased development of STT OA. In these patients a newer technique of an interposition disc made from pyrocarbon, is now an option.
In the younger patients who are not manual workers there are also a number of total joint replacements or hemiarthroplasties. The results of all these procedures are not known and therefore can be seen as an experimental procedure, although some short term results are encouraging.