Total Wrist Arthroplasty
There are a number of conditions that can cause destruction and the indications for use are:
Rheumatoid Arthritis
SLAC Wrist
Osteoarthritis
Post Traumatic Arthritis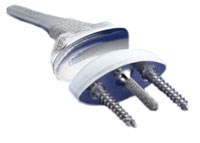 However, it is the patient that determines whether the implant would be suitable. Unlike total hip or knee arthroplasty, the 10 year survival is lower and it has been shown that it does fail more quickly in more active individuals. Therefore in the young manual labourer total wrist arthrodesis would be the procedure of choice.
Ideal patients would be those who are low demand due to systemic conditions such as rheumatoid disease, or those over 65 who have retired.
What is the benefit and outcome?
Patients who undergo wrist arthodesis will have good pain relief, but the loss of any movement at the wrist can be challenging. With total wrist replacement, movement will not be normal, but will be present. Even extension of 20 degrees and flexion of 10 degrees allows patients to perform over 80% of activities of daily living. The end result is often determined by the pre-operative condition. Like all joint replacements: if the joint was stiff before, it will be stiff after. However if you speak to patients who have had both a replacement and a fusion, there is no contrast.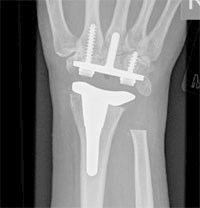 Evidence:
Menon,J.,Universal Total Wrist Implant: Experience with a carpal component fixed with three screws. In. The Journal of Arthroplasty ,vol.13, no.5, p. 515-523.
Courtman,N., Schart,D.H., Trail,I.A., Stanley,J.K., Biaxial Wrist Replacement: Initial results in the rheumatoid patient.In. The Journal of hand Surgery, British and European Vol. 24B. p.32-34.
Costi,J., Krishnan,J., perry,M., Total Wrist Arthroplasty: A Quantative Review of the Last 30 Years. In: The Journal of Rheumatology,Vol.25, No.3. p.451-458.
Lluch,A., Flexible Hinged Silicone. In. Hand Arthroplasties. EdsSimmen,Allieu,Lluch,Stanley. Pub. Martin Dunitz. 2000.
Meuli,H.C., Meuli Prosthesis. In: Hand Arthroplasties. EdsSimmen,Allieu,Lluch,Stanley. Pub. Martin Dunitz. 2000.
Beckenbaugh, R.D., Biaxial prostheses. In: Hand Arthroplasties. EdsSimmen,Allieu,Lluch,Stanley. Pub. Martin Dunitz. 2000
Talwale,V.J. Nuttall,D. Trail,I.A. Stanley,J.K., Biaxial total wrist replacement in patients with rheumatoid arthritis.In:The Journal of Bone and Joint Surgery2002;84_B:692-9