Total Wrist Arthroplasty
When deciding on post operative rehabilitation, the routine is determined by the operating surgeon at the time of surgery and should be documented in the notes.
There are, however a number of influencing factors, the most important of which is the stability of the implant at the end of the procedure. It has been hypothesised that the looser the soft tissues are after insertion of the implant, the more movement is achieved post operatively. However the looser the implant the higher the risk of dislocation. Judging the soft tissue is challenging. Other important factors include: soft tissue swelling; intra-operative complications such as fracture; preoperative range of movement or deformity; and individual patient characteristics.
Any or a combination of these factors will dictate the length of the initial period of immobilisation in a below elbow pop or splint.
In the post-operative period a number of complications may occur which must be addressed: Excessive swelling may not only cause excessive pain, but can reduce the range of finger movement; Carpal tunnel syndrome can occur, which may require decompression; Dislocation of the implant may also occur.
The objective of hand therapy is to control and improve pain and guide the patients rehabilitation. A stable, pain free, functional range of movement is the target.
(30 / 30 flexion / extension, 5 / 10 radial / ulna deviation, 60 / 80 pro/ supination).
The patient must be guided to adopt short as well as long term joint protection principles to minimise external forces being transmitted through the implant.
Post-operative Management Guidelines:
Initial wrist immobilisation in neutral alignment or in position of greatest stability
Analgesia as required
Elevation of limb
Antibiotics x 2 (one pre-op / one post op)
Mobilisation of adjacent joints
Below elbow pop / splint from theatre. If patient experiences significant pain which is exacerbated by forearm rotation then the application of a sugar tong splint to block rotation and provide pain relief may be indicated.
ROS / wound check at 2 weeks
A stable implant with minimal soft tissue rebalancing or pain can commence mobilisation a few days after surgery (day 5 approx, dependant on the day of surgery and availability of follow-up). This is active, active assisted flexion / extension of the wrist. NO Rotation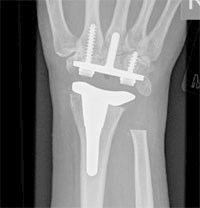 A stable implant that has been very swollen or painful can commence mobilisation of the joint at two weeks. Flexion and extension but no rotation.
Those with more laxity continue to immobilise weeks until stability is achieved.
Irrespective of when mobilisation is commenced all patients proceed back to functional use of the wrist and mobilisation through a graduated mobilisation programme which protects any soft tissue rebalancing and joint capsule
Early mobilisation:
Active / active assisted: flexion / extension wrist; radial / ulnar deviation wrist
Splint to be worn between exercises and at night
Active / passive movement of digits as appropriate
Functional use of hand in splint and avoiding transmitting power across wrist joint
Weeks 2-4 of mobilisation:
Increase number of exercise sessions and repetitions as necessary
Introduce functional use of hand / wrist out of splint e.g. dressing, hygiene, feeding but avoid power and weight bearing activities.
Weeks 4-6 of mobilisation
Introduce strengthening of wrist extensors and digits as necessary and appropriate for the individual.
Increase functional activity out of splint applying joint protection principles and activity modification (if the wrist extensors cannot maintain the wrist at neutral alignment whilst holding an object then the object is too heavy and should be avoided or the activity performed with splint in situ).
Weeks 6-12 of mobilisation
Continue active / active assisted exercise
Increase function applying joint protection principles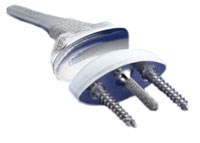 Total wrist replacements are non weight bearing joints, heavy activity (household or occupational), use of a walking aid or repetitive stucatto movements (hammering), will increase the speed and incidence of loosening of the implants stems and the ultimate failure of the implant.
Links:
Evidence:
Menon,J.,Universal Total Wrist Implant: Experience with a carpal component fixed with three screws. In. The Journal of Arthroplasty ,vol.13, no.5, p. 515-523.
Courtman,N., Schart,D.H., Trail,I.A., Stanley,J.K., Biaxial Wrist Replacement: Initial results in the rheumatoid patient.In. The Journal of hand Surgery, British and European Vol. 24B. p.32-34.
Costi,J., Krishnan,J., perry,M., Total Wrist Arthroplasty: A Quantative Review of the Last 30 Years. In: The Journal of Rheumatology,Vol.25, No.3. p.451-458.
Lluch,A., Flexible Hinged Silicone. In. Hand Arthroplasties. EdsSimmen,Allieu,Lluch,Stanley. Pub. Martin Dunitz. 2000.
Meuli,H.C., Meuli Prosthesis. In: Hand Arthroplasties. EdsSimmen,Allieu,Lluch,Stanley. Pub. Martin Dunitz. 2000.
Beckenbaugh, R.D., Biaxial prostheses. In: Hand Arthroplasties. EdsSimmen,Allieu,Lluch,Stanley. Pub. Martin Dunitz. 2000
Talwale,V.J. Nuttall,D. Trail,I.A. Stanley,J.K., Biaxial total wrist replacement in patients with rheumatoid arthritis.In:The Journal of Bone and Joint Surgery2002;84_B:692-9